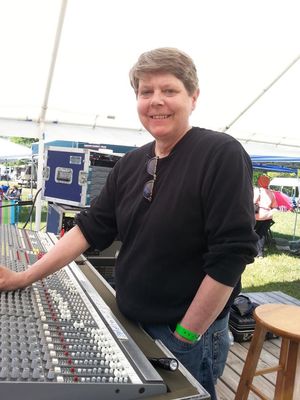 How do you say goodbye to a member of the Wicked Jezabel band family who suddenly leaves you? There are no words to describe the loss, the pain, the emptiness that comes along with this type of life cycle and tragedy, but I will try. 
Kris Koth has been an inspiration, a teacher, a wounded warrior of life that always fought for the weak, strived to bring out the best in you and the perfection of any given situation at hand yet always at her own detriment. She generated her power and humility through the porthole of music and sound engineering. For many decades she would do sound for bands and festivals and instantly she would gain your respect and attention. Kris played a powerful and tasteful bass drive in many bands and was highly respected in the LGBTQ community. The Outskirts of Town which later morphed into Wicked Jezabel were very lucky to have her on board. She was committed! For several years, she did our sound but also subbed on bass at occasions too. After losing her job at the City Paper (after 25 years) she had to move on due to new scheduling conflicts with reinventing her life. We never lost touch thanks to one of her favorite gigs on this planet... Womens' Campout in Lousia, VA.! 
Kris helped Billie and Sally get Womens' Campout off the ground in the late 90's. To watch her work was amazing. One year it rained so long and hard she had thick mud up to her knees! Trailing back and forth from the stage to the board making sure everything came out alright! Kris was committed!!! Kris was tough!!! When the going got tough....the KOTH GOT GOING!!! Never afraid of hard work, only bad results! She worked her ass off to deliver the goods and she delivered! Every act sounded the best that it could be! Everyone could breathe! 
We will not only miss her as one of our talented sound engineers and bass subs but as a great friend and human being. Life didnt always deal her the best cards but we are in peace to know that she now has some form of real peace. Also, we know she can reunite with her Mom, her brother and now totally jam with some of her musical pals like Mary Pat Hughes! Kris will forever rock our hearts and she will be missed deeply! 
Thank you Kris for all of your love, commitment and support of Wicked Jezabel and for being a great friend to us all too! Memorial Day and Campout VA will never be the same without you but do RIP (ROCK in Peace) our dear wicked friend, ROCK in Peace!
(Originally posted on Facebook here.)