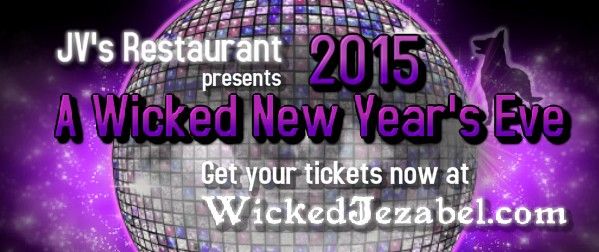 Happy Holidays from Wicked Jezabel!
Whether your holidays are just wrapping up, (Merry Christmas, and Happy Hanukkah!), or just beginning (Happy Kwanzaa!), Wicked Jezabel wants to wish you a joyous and merry season!  It's been a wonderfully wicked year, in all the
best
ways.  A big highlight of our year has been seeing all our
awesome
friends at our shows and events!  Now, the time has come to say goodbye to 2015 and welcome a fresh new year...and we sincerely hope YOU will join us!  
"It's gonna be HUGE!"
~ Donald Trump
No doubt about it, this will be the party of the year!  A Wicked New Year's Eve 2015 will feature party favors, door prizes, swag bags, hot appetizers, a champagne toast, and, of course, a whole night of wicked fun dancing to everyone's favorite kick-ass party band, Wicked Jezabel!  It's all happening at legendary music venue, JV's Restaurant in Falls Church, VA.  The band kicks off around 9:00 PM, but come early for a good seat.  Don't want to drive?  We got you covered.  Your ticket includes a special offer on nearby hotel rooms (offer sent upon purchase).  PLUS...it's all for a good cause!  A portion of the proceeds benefit our canine veterans, the military working dogs who help keep our men and women in uniform safe.  It's gonna be huge!  
"May the Force be with you."
~ Hillary Clinton
You don't have to use the force to join the party!  But you
do
need a ticket, and they're going fast!  To get yours, and to secure your rightful place in wicked history, be sure to visit
http://WickedJezabel.com
right away!  Tickets are just $40 (that's a steal, believe me!) and checkout is quick and painless.  You'll get your tickets in email and your name will be added to the guest list at the door.  Easy peasey!  If you're interested in the room deal, you'll get the details when you purchase your ticket.  
"I also went to the bathroom."
~ Bernie Sanders
Have you seen the recently remodeled JV's Restaurant?  It's gorgeous!  There's a nice stage, great lighting, big dance floor, more seating, and extra bathrooms for everyone!  It's the perfect place to ring in the new year, especially for anybody who loves to support our awesome, local, live music! 
So what are you waiting for?
Christmas?  It's done!  Don't miss your chance to join the party of the year!  Get your tickets now at http://WickedJezabel.com!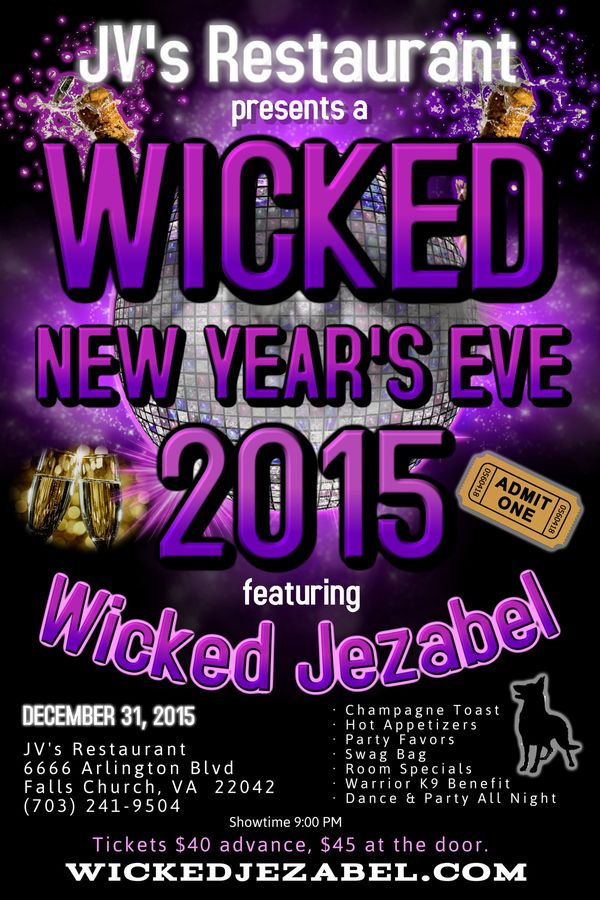 All ticket sales are final.  Sorry, no refunds.